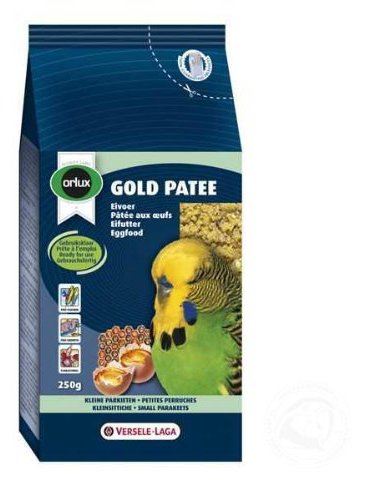 Description
Gold Patee Parakeets Versele Laga
Orlux Gold kick small parakeets is an egg pasta ready to use for small parakeets and also for neofemas and agapornis. It is also a treat much desired by domestic birds. Gold kick small parakeets have a high nutritional value, by adding 100% pure and natural honey.
The additionally added lysine and methionine guarantee optimum growth and good plumage composition. The additional iodine stimulates the activity of the thyroid gland. This food has a thick structure for better ingestion.
How to use
This Gold kick is ready to use and can be administered for several days. However, this pasta can also be prepared with sprouted seeds, fruit or grated vegetables, although in this case, it is necessary to refresh the ration daily. Egg pasta should be available throughout the breeding season. Outside this period, three times a week.
Features
Gold Patee Parakeets Versele Laga
Reference

5411204115080

Weight

1 Kg, 5 KG, 250 GR

Brand

Versele Laga

Product Range

Versele Laga Orlux.

Product Type

Paste

Bird Type

Parakeets
Customer Reviews
Gold Patee Parakeets Versele Laga