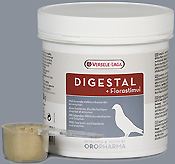 Description
Digestal Versele Laga
Supplementary food for pigeons. Oropharma Digestal is an intestinal conditioner with probiotics. This dietary supplement restores the function of the natural intestinal flora and inhibits the growth of pathogenic bacteria. There are bacteria in the digestive tract of pigeons that are essential for good digestion. These good bacteria predominate in a healthy pigeon. However, if pathogenic bacteria predominate, the pigeon will have watery droppings that cause the loss of large amounts of fluids and electrolytes. The administration of antibiotics kills both good and pathogenic bacteria. Digestal serves as food for the good intestinal flora (probiotics) and also ensures that pathogenic bacteria can no longer adhere to the intestinal wall so that the natural intestinal flora can recover.
Instructions for use:
-1 measure of Digestal per kg of feed.
- Moisten the feed in advance, e.g. with Oropharma Ferti-Oil or Oropharma Form-Oil-in-1.
- In all cases of watery diarrhoea (e.g. Youngster's disease).
- In children: preventively two to three times a week from weaning.
- On arrival home after the race: for 2 days. Packaging: small pot 300 g
- In poultry.
Features
Digestal Versele Laga
Reference

5410340600917

Weight

300 GR

Brand

Versele Laga

Product Range

Versele Laga Oropharma

Type

Minerals, Vitamines

Bird Type

Cockatoos, Lories, Love Birds, Parakeets, Canaries, Cockatiel
Customer Reviews
Digestal Versele Laga