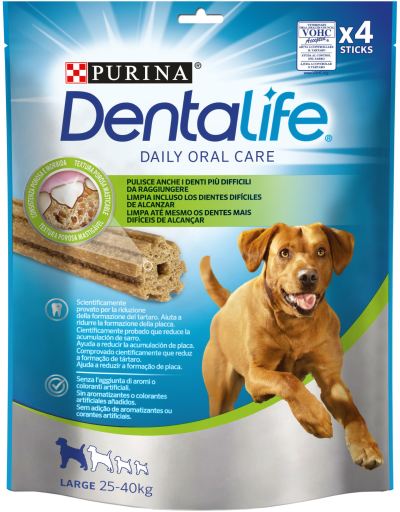 customer_also_bought_ani
Traveness

Traveness
Description
Snack for Oral Care in Large Dogs from 25 to 40 Kg Dentalife
Your dog has specific health needs and maintaining healthy oral care contributes positively to his overall well-being. That's why Purina® experts have developed Purina® DentaLife®, an innovative dental chew scientifically proven to help clean even the hard-to-reach back teeth, which are the most vulnerable to plaque and tartar buildup. Our dental chews are designed for daily use and chewing, meaning more cleaning time.
Start your dog's daily oral care routine today.

Benefits:
- Made with corn and wheat, no added sugars and low in fat.
- Healthy snack for your dog, with no added artificial flavorings or colorings.
- Cleans even hard to reach teeth.
- Scientifically proven to reduce tartar buildup and helps reduce plaque buildup.

Administration:
- For a large breed dog from 25kg to 40kg: 1 stick per day.
To keep your dog healthy follow the recommended daily ration and encourage daily exercise.
Always leave clean and fresh water available.
Supervise your dog when you are giving the product.

Directions:
This bag is not a toy. To avoid risk of suffocation, keep out of reach of children and pets. Keep food in a cool, dry place.
Ingredients
Snack for Oral Care in Large Dogs from 25 to 40 Kg Dentalife
Composition:
Cereals (60% extruded corn flour, 5% wheat flour), Glycerol, Mineral substances, Yeasts, Meats and animal by-products (1.2%*), Oils and fats.
*equivalent to 4% rehydrated meats and animal by-products (4% chicken).

Nutritional additives:
IU/kg: Vitamin A: 8500, Vitamin D3: 570, Vitamin E: 60.
mg/kg: Calcium iodate anhydrous: 2.2; Manganous sulfate monohydrate: 12.5; Zinc sulfate monohydrate: 280; Sodium selenite: 0.31. With antioxidants.

Analytical components:
Moisture: 14.5%; Crude protein: 7.0%; Crude oils and fats: 2.5%; Crude ash: 4.5%; Crude fibers: 0.7%; Calcium: 1.1%.
Features
Snack for Oral Care in Large Dogs from 25 to 40 Kg Dentalife
Reference

7613035379756

Weight

142 gr, 426 gr, 1,272 kg

Brand

Dentalife

Size

17,2x19x6,2 cm, 25,2x21,5x9 cm

Age

Adult, Senior, Not Specific, Puppy, Junior

Snacks Shape

Sticks

Flavor

Chicken, Meat

Pet Weight

More than 25 kg

Dog Size

Maxi, Giant

Special Cares

Dental

Units

4 Sticks, 36 Sticks, , 4 Sticks, 12 Sticks, 36 Sticks

Type of Snack

Dental
Customer Reviews
Snack for Oral Care in Large Dogs from 25 to 40 Kg Dentalife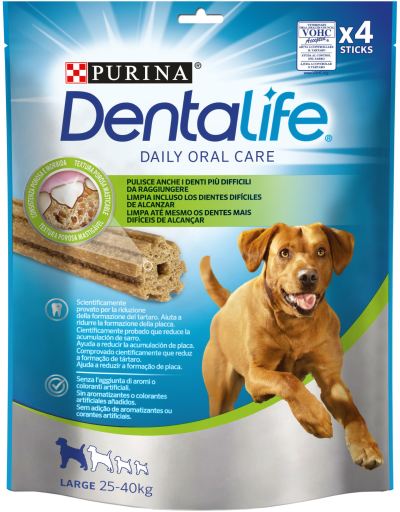 Excelente preo, os patudos devoram!
Satisfeito recomendo para todos os amigos de quatro patas