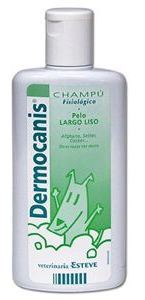 customer_also_bought_ani
Traveness

Traveness
Description
Shampoo for Smooth Longhair Dogs Dermocanis
DERMOCANIS® LONG HAIR SMOOTH is indicated for the following breeds of dogs and their crossbreeds:
Afghani, Setter, Cocker, Belgian Shepherd, Yorkshire terrier, Pekingese, Lhassa Apso, Collie, etc.
DERMOCANIS physiological shampoos have been formulated by dermatology specialists for the regular hygiene of the different types of canine skin and coat, respecting the dermal and general physiology of the animal.
All of them are characterized by:
- Incorporate mild surfactants whose cleansing efficacy respects the natural conditions of the skin.
- They do not contain perfumes.
- They do not contain colorants.
DERMOCANIS physiological shampoos do not irritate the epidermis and respect the integrity of the protective keratin of the coat.
PROPERTIES AND INSTRUCTIONS FOR USE
Contains conditioners and softeners that give body and volume to the hair, facilitating combing due to its antistatic properties. Contains fatty acid derivatives and substances that restore the skin and hair's natural shine and properties.
Wet the hair and apply in sufficient quantity according to the size of the animal, thickness of the hair and state of dirt. Rub until foam is obtained. Then rinse and repeat the operation until a soft, white foam is obtained. Rinse and dry, avoiding drafts and cold environments.
If baths are needed more frequently than monthly, we recommend using Dermocanis Physiological Shampoo for frequent use.
Do not bathe puppies before vaccination. Consult your veterinarian.
USE IN ANIMALS
Features
Shampoo for Smooth Longhair Dogs Dermocanis
Reference

8431506220005

Weight

300 GR

Quantity

250 ml

Brand

Dermocanis

Shampoo Application

Wet hair

Units

1

Hair color

Not Specific

Hair length

Pelo Largo

Properties

Moisturising
Customer Reviews
Shampoo for Smooth Longhair Dogs Dermocanis