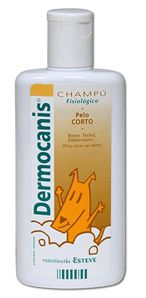 customer_also_bought_ani
Traveness

Traveness
Description
Shampoo for Shorthair Dogs Dermocanis
DERMOCANIS ® SHORT HAIR is indicated for the following dog breeds and their crossbreeds: Boxer, Dachshund, Dobermann, Schnauzer, Braco, German Dogo, Mastiff, Akita Inu, smooth-haired Fox terrier, Pointer, Chihuahua, Dalmata, Labrador, etc.
DERMOCANIS physiological shampoos have been formulated by dermatology specialists for the regular hygiene of the different types of canine skin and coat, respecting the dermal and general physiology of the animal.
All of them are characterized by:
- Incorporate mild surfactants whose cleansing efficacy respects the natural conditions of the skin.
- They do not contain perfumes.
- Do not contain colorants.
The use of DERMOCANIS physiological shampoos prevents the appearance of skin problems.
PROPERTIES AND INSTRUCTIONS FOR USE
With specific components that respect the natural conditions of the skin of dogs, keeping the coat soft and shiny. Its special formulation as well as its excellent tolerance makes it very suitable for use in short or smooth coated breeds.
Short-haired breeds should be brushed once a week and bathed no more frequently than once a month.
Wet the coat and apply in sufficient quantity according to the size of the animal, thickness of the coat and state of dirt. Rub until obtaining foam. Then rinse and repeat the operation until a soft and white foam is obtained. Rinse and dry, avoiding drafts and cold environments.
If baths are needed more frequently than monthly, we recommend using Dermocanis Physiological Shampoo for frequent use.
Do not bathe puppies before vaccination. Consult your veterinarian.
USE IN ANIMALS
Features
Shampoo for Shorthair Dogs Dermocanis
Reference

8431506220012

Quantity

250 ml

Brand

Dermocanis

Shampoo Application

Wet hair

Hair color

Not Specific

Hair length

Pelo Corto

Properties

Moisturising
Customer Reviews
Shampoo for Shorthair Dogs Dermocanis