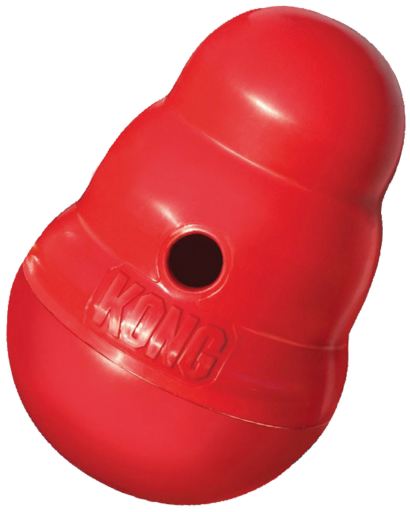 customer_also_bought_ani
Traveness

Traveness
Description
Wobbler KONG
Dogs also need mental stimulation in addition to physical stimulation and for this you should use toys that are suitable.
Normally pets do not develop their cognitive abilities sufficiently, this can have consequences on their mood. This can lead to behavioral problems.
To avoid that and to get him to find the perfect balance between mind and body, you should offer him interactive toys.
You will also improve the bond with your furry friend while having fun and learning at the same time.

It's shaped like a KONG, fills with food and, with a little guidance from you, will get your hungry puppy to eat at a more moderate and healthy pace.
Use the Wobbler as an alternative to the dish to extend meal time and exercise your dog.
- Made of FDA food-approved, high-strength plastic polymer.
- Dishwasher safe
- Screws at the top pull out from the bottom for easy refilling
- Comes in two sizes: Small (fits half a cup of food) and Large (fits one cup of food)
Features
Wobbler KONG
Reference

035585034003

Brand

KONG

Materials

Rubber

Type

Piramid

Characteristics

Refillable

Size

S, L

Weight

748,4 gr
Customer Reviews
Wobbler KONG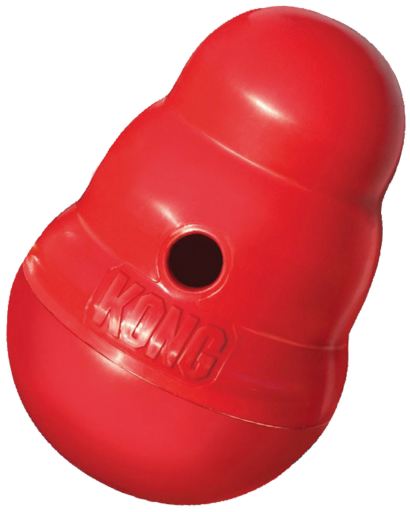 Bom produto, o meu patudo adora
Excelente produto para incentivar a caça ao alimento. Sendo fundamental para o entretenimento, enriquecimento ambiental e para comer devagar.