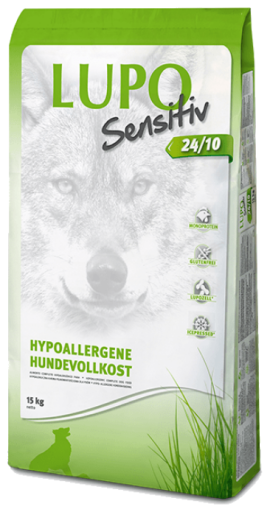 customer_also_bought_ani
Traveness

Traveness
Description
Sensitive Luposan
HYPOALLERGENIC UPOSENSITIV 24/10
RECOMMENDED FOR DOGS WITH NORMAL ACTIVITY ACTIVE
Hypoallergenic 24/10 Luposensitiv feed is transported directly from the factory Luposan / Markus-Mühle from Germany to its delegation in Spain, only in refrigerated trucks between 18 - 24 ° C. Being very sensitive to heat and moisture without preservatives naturally think, we sent in 24 hours approx. all Spain in thermo-protective boxes to maintain its freshness and actual expiration.
In Luposan / Markus-Mühle we are aware of the number of dogs with allergies, so we created a hypoallergenic formula specially for them. No cereal!, Ie without gluten. Potato flour used as a source of carbohydrates, it is providing large amounts of nutrients and energy, is highly digestible and suitable for dogs with food allergies origin
Hypoallergenic Luposensitiv 24/10

Ideal for sensitive to certain food-borne allergies, dogs and young adults engaged in normal activity or active dogs.
Features
Sensitive Luposan
Reference

4032314030356

Weight

15 Kg, 5 KG, 20 KG

Brand

Luposan

Physical Activity

Average

Nutritional Conditions

Hypoallergenic Products, Natural

Age

Adult, Senior

Flavor

Chicken, ,

Dog Size

Small, Medium, Maxi, Giant

Special Cares

Digestive

Quantity

5 Kg, 15 Kg, 20 Kg
Customer Reviews
Sensitive Luposan