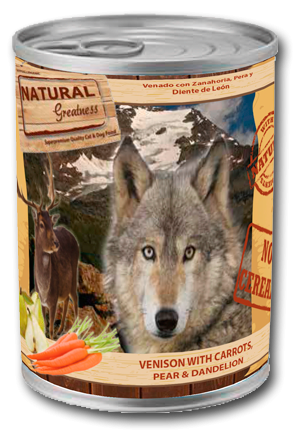 customer_also_bought_ani
Traveness

Traveness
Description
Pack 6 Deer with carrot, pear and dandelion Natural Greatness
Ultra Premium Quality Dog Food
Our recipe for "Venison with Carrot, Pear and Dandelion" is perfect for dogs that have allergies to other proteins, since it contains two protein sources that are not commonly used in pet foods.
Carrots: Carrots are rich in Beta carotene and loaded with vitamin A, vitamin C and vitamin K, while it is also high in potassium and fiber. Good for the skin and eyes.
Pears: Pears are naturally rich in vitamins C and K, as well as nutrients such as copper, all of which act as antioxidants to protect cells from your dog damage from free radicals. Pears are an excellent source of dietary fiber, and fiber is good for the heart.
Dandelion: Medicinal herb prized for its beneficial effects on the liver, kidney and urine pH value.
Deer, Reindeer and Wild Rabbit (min. 65%: comprising lean meat, heart, liver and lungs), Meat Broth, Carrots, Pear, Minerals, Dandelion, Salmon Oil.
Features
Pack 6 Deer with carrot, pear and dandelion Natural Greatness
Reference

0837655223863

Weight

400 GR

Brand

Natural Greatness

Physical Activity

Average

Nutritional Conditions

Natural

Age

Adult

Flavor

Venison

Quantity

0,4 Kg

Dog Size

Not Specific

Type of Food

Wet Food

Made in

Spain

Gusto

Activité Physiques
Customer Reviews
Pack 6 Deer with carrot, pear and dandelion Natural Greatness