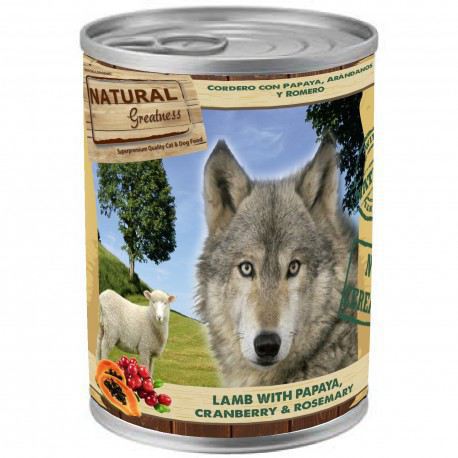 customer_also_bought_ani
Traveness

Traveness
Description
Pack 6 Lamb with papaya, cranberries and rosemary Natural Greatness
Ultra Premium Quality Dog Food
Our recipe "Lamb with papaya, Cranberries and Rosemary" contains only one source of protein: the delicious lamb.
Cranberries: Cranberries are the most common berry used to fight urinary tract infections in humans and the same applies to canine friends. Cranberries helps to prevent and control urinary tract infections by reducing the pH of dog urine.
Papaya: Rich in fiber which helps to treat digestive problems such as bloating and flatulence. In addition to fiber, papaya also contains Vitamin K, Vitamin E, Vitamin A, Vitamin C, folic acid and potassium.
Rosemary: This herb is high in iron, calcium and vitamin B6. Rosemary has also been shown to act as an antioxidant.
Lamb (min. 65%: comprising lean meat, heart, liver and lungs), Meat broth, Papaya, Cranberries, Minerals, Rosemary, Salmón Oil.
Features
Pack 6 Lamb with papaya, cranberries and rosemary Natural Greatness
Reference

0837655223870

Weight

400 GR

Brand

Natural Greatness

Physical Activity

Average

Nutritional Conditions

Natural

Age

Adult

Flavor

Lamb

Quantity

0,4 Kg

Dog Size

Not Specific

Type of Food

Wet Food

Made in

Spain

Gusto

Activité Physiques
Customer Reviews
Pack 6 Lamb with papaya, cranberries and rosemary Natural Greatness