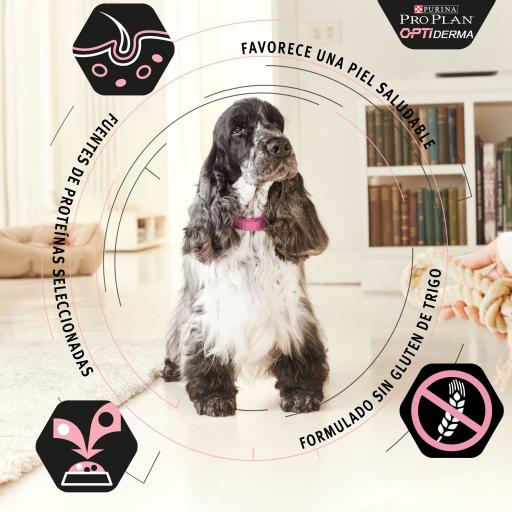 customer_also_bought_ani
Traveness

Traveness
Description
Optiderma Medium Adult Sensitive Skin Rich in Salmon Pro Plan
PURINA PRO PLAN has been reformulated to put the latest PURINA studies to work in a nutrition range available to everyone. For us, advancing your dog's nutrition is a life's work.

As dog owners and dog lovers ourselves, we'll always be committed to innovation and finding new ways to help you make their world amazing
Why we are different
The quality is in the details
Ingredient quality and safety is the highest priority for PURINA PRO PLAN and is non-negotiable.
Scientifically proven benefits
Every single ingredient and nutrient level has been chosen to provide dogs with meaningful benefits.
Purposeful cutting -edge science
Our breakthrough discoveries have been recognized by the international scientific community and are published in renowned peer-reviewed journals.
High nutrient delivery
Cooked with optimal procedure for high nutrient delivery thanks to our PURINA proprietary technology, where taste and quality nutrition are fully respected, PURINA PRO PLAN delivers the best out of our ingredients to help support long term health.
Our latest innovation: Optinutrition
PURINA PRO PLAN

new range with OPTINUTRITION is our most advanced and efficient combination of nutrients. Developed by cutting-edge science expertly applied to nutrition, it provides scientifically proven benefits which target specific needs to accompany your dog throughout his life.
PURINA PRO PLAN CA

We understand that your cat is precious and that feeding her just the right diet is an important part of taking care of her. Because her needs will change throughout her life, PURINA PRO PLAN provides a range of excellent nutrition for cats at each life-stage: kitten, adult and senior.
Features
Optiderma Medium Adult Sensitive Skin Rich in Salmon Pro Plan
Reference

7613035114777

Weight

3 Kg, 7 KG, 14 KG, 14 + 2,5 kg

Brand

Pro Plan

Physical Activity

Strong, Soft, Average

Age

Adult, Senior

Flavor

Fish, Salmon, , , ,

Dog Size

Medium

Special Cares

Hair and Skin

Quantity

3 Kg, 14 Kg, 14+2,5 Kg

Made in

Italy, France

Product Range

Pro Plan Adult Dog Medium/Large, , , Pro Plan Optiderma

Manufacturer

Pro Plan,ESP 08300105,AFFINITY PETCARE S.A. Plaça Europa, 54-56, 08902 Hospitalet de Llobregat (Spain),

Producido en

,
Customer Reviews
Optiderma Medium Adult Sensitive Skin Rich in Salmon Pro Plan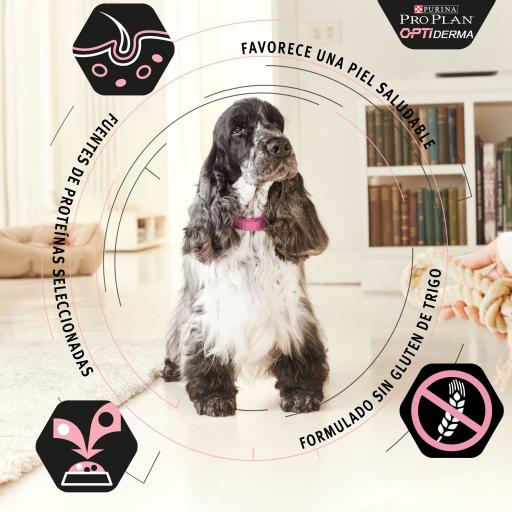 O meu cão adora está ração , e é super boa para a pele
A minha cadela tem uma pele muito sensvel (provocada por uma alergia ou algum bicho que a tenha ferrado, na altura em que esteve em Angola comigo). Desde essa altura que come normalmente esta rao e a pele est bem.