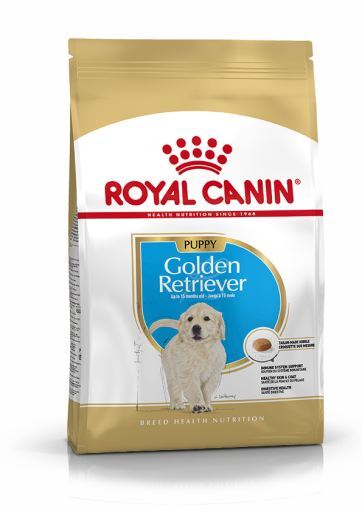 customer_also_bought_ani
Traveness

Traveness
Description
Golden Retriever Puppy Royal Canin
This Royal Canin food is formulated to meet the special needs of the Golden Retriever from 2 up to 15 months of age. These puppies are excellent companions, happy and restless.
At this stage the Golden Retriever are spectacular, growth above all in the first 8 months. It is very important that the food has a perfect balance of minerals, vitamins and calories for the skeleton and joints develop strong and healthy and to avoid overweight. On the other hand they change hair soft and thin puppy for long and bright adults, by which a correct intake of fatty acids and vitamins will favour the formation of the superb fur of this beloved breed.


Special nutritional characteristics:
Thanks to a rich supply of oil from Borage and biotin, the Golden Retriever 29 Junior helps to reinforce the fur, the first layer of natural protection of the puppy. The sensitive skin of the Golden Retriever benefits directly from the action of the complex "Skin Complex", rich in vitamins of the Group B and EPA-DHA.Helps keep the puppy's natural defences thanks yet synergistic complex of antioxidants patented (vitamin E, vitamin C, taurine and lutein).It favors a safe growth and mineralization of the bones. It helps to strengthen the joints with chondroitin sulfate and Glucosamine.Provides optimal digestive security through the addition of Prebiotics, psyllium and a selection of proteins LIP for an excellent digestive tolerance.


Ingredients
Golden Retriever Puppy Royal Canin
Ingredients: dehydrated poultry proteins, rice, corn, isolated from vegetable proteins (L.I.P.: protein selected by its high assimilation), animal fats, wheat, vegetable fibres, hydrolyzed animal protein, beet pulp, minerals, fish oil, soya oil, fructo-oligosaccharides, seeds and integumentos of psyllium, hydrolyzed yeast (source of mannan-oligosaccharides), hydrolysed crustacean (source of Glucosamine), Borage (0.1%) oil, extract of rose of the India (source of lutein), hydrolysed cartilage (source of chondroitin).
Guaranteed analysis: crude protein 29%, oils and fats gross 16%, ash gross 6.5%, crude fibre 3.8%, moisture 9.5%, calcium 0.98%, phosphorus 0.8%, glucosamine 990 chloride mg/kg, glucosamina+condroitina 1000 mg/kg, omega 3 fatty acids 0.76%, omega 6 fatty acids 3.07%, EPA/DHA 0.4%, biotin 3.04 mg/kg, DL-methionine 0.5%, acid aranquidonico 0.07%, linoleic acid 2.87%, taurine 3100 mg/kgL-lysine 0.99%, arginine 1.54%.
Minerals: potassium 0.7%, magnesium 0.08%, MN 67 mg/kg, zinc 239 mg/kg, selenium 0.18 mg/kg sodium 0.4%, 0.6% chlorine, iodine 2.8 mg/kg iron 188 mg/kg, copper 15 mg/kg.
Vitamins: Vitamin B5 (Pantothenic acid) 143.6 mg/kg, folic acid 13.5 mg/kg, vitamin B6 (pyridoxine) 74.9 mg/kg, vitamin B1 (thiamin) 26.8 mg/kg, vitamin B12 (cyanocobalamin) 0.14 mg/kg, vitamin B2 (riboflavin) 48.2 mg/kg, vitamin D3 800 IU/kg, Hill 1500 mg/kg, vitamin B3 (niacin) 480 mg/kg.
Metabolizable energy (measurement): 3750 kcal/kg.
Additives (per kg):Nutritional additives: vitamin A 24400 IU, vitamin D3 800 IU, E1 (iron) 40 mg, E2 (iodine) 2.8 mg, E4 (copper) 9 mg, E5 (MN) 53 mg, E6 (Zinc) 198 mg, E8 (selenium) 0.1 mg. preservatives and antioxidants authorized CE.
Recommended daily allowance: the recommended amounts are indicative and should be adjusted accordingly that vary according to the age of the animal, activity, ambient temperature, etc. Rations must then conform to the energy needs of the animal, guided by the maintenance of optimal body weight.Provided that a change of power is made, a time of transition must be observed to prevent digestive problems.
Features
Golden Retriever Puppy Royal Canin
Reference

3182550751261

Weight

3 Kg, 12 KG, 12 + 2 KG

Brand

Royal Canin

Physical Activity

Average

Age

Puppy, Junior

Flavor

Chicken, , ,

Breed

Golden Retriever

Dog Size

Maxi

Quantity

3 Kg, 12 Kg, 12+2 Kg

Made in

France

Power

16 W

Product Range

Physiological Royal Canin, Royal Canin BHN Breed Health Nutrition, , , , , Royal Canin Breed Health Nutrition, Royal Canin Puppies, Royal Canin Physiological

Manufacturer

Royal Canin,ESP28000439,Royal Canin Ibérica, S.A. PLAZA CARLOS TRIAS BELTRÁN, 4 Madrid 28022 MADRID (ESPAÑA),

Produits Français
Customer Reviews
Golden Retriever Puppy Royal Canin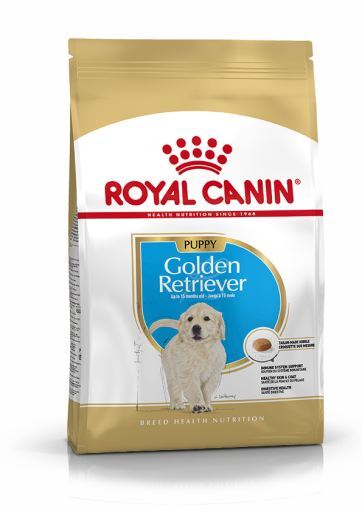 Uno de los mejores alimentos, aunque un poco caro.
é ótima, o pelo fica maravilhoso e eles adoram