customer_also_bought_ani
Traveness

Traveness
Description
Pug Adult Royal Canin
Nutritional characteristics:
Special MORPHOLOGY BRAQUICEFALA
.
Carlino
is "brachycephalic" by his wide head and its short snout. The size, shape and texture of the Pug 25 Kibbles provide prehension and Mastication. The incorporation of calcium chelators help to delay the formation of scale and ensures optimal hygiene oral.
Healthy skin
.
It helps to limit the risk of skin irritation and strengthens the skin's "barrier" effect.
IDEAL weight and muscle tone
.
It contributes to the muscle tone of the
Pug Carlino
and helps to maintain your ideal weight.
Program longevity
.
Helps to maintain the vitality of the Pug Carlino thanks to a combination of polyphenols in grape and green tea, and vitamins E and C.
OPTIMIZED shape and TEXTURE
.
The croquette shaped clover for an easier grip. Its density, texture and specific formula along with its uniquely provide optimal dental hygiene and perfectly meet the needs of the
Carlino
.
Exclusive formulation
.
Through the synergic action of binders that trap calcium in saliva and polyphenols that help reduce the bacterial attack, the development of the plaque and dental calculus is limited.
Nutritional tips:
BRACHYCEPHALLIC MORPHOLOGY:
Brachycephalic and slightly prognato. His characteristic jaw and thick lips hinder him the grip of food. It has a tendency to chew.
Compact and MUSCULAR:
The Carlino is a mini-molosoide. It has, like mastiffs and dogos relatives, a muscular Constitution, strong jaws, big head and short snout. All in a tiny body. Your ideal weight ranges between the 6.3 and 8.1 kilograms, so it is essential to give a food that provides the nutrients needed to maintain your ideal weight.
The hair and skin health:
The coat soft and short of the
Pug Carlino
highlights the folds of your skin. Because they retain moisture, can cause the appearance of dermatological problems.
Problem longevity:
Oxidative stress appears a lack of balance between the mechanisms of antioxidant and oxidative factors. It is necessary that the food has some nutrients that help slow cellular aging.
Ingredients
Pug Adult Royal Canin
Ingredients: rice, dehydrated poultry proteins, corn flour, fat animals, corn, wheat flour, corn, isolated from vegetable proteins gluten (L.I.P.: protein selected by its high assimilation), hydrolyzed animal protein, sugar beet pulp, minerals, vegetable fibers, fish oil, soybean oil, fructo-oligosaccharides, Borage Oil, extracts of green tea and grapes (source of polyphenols)crustacean (source of Glucosamine), hydrolysed Rosa of the India (source of lutein), hydrolysed cartilage (source of chondroitin).
Guaranteed analysis: crude protein 25%, oils and fats gross 16%, ash gross 5.6%, crude fiber 1.9%, moisture 9.5%, calcium 0.72%, phosphorus 0.61%, omega 3 fatty acids 0.65%, omega 6 fatty acids 3.26%, EPA/DHA 0.3%, glusocamina+condroitina 500 mg, glucosamine 495 gr, biotin 3.07 chloride mg/kg, DL-methionine 0.77%, acid aranquidonico 0.07%, linoleic acid 3.15%, taurine 2000 mg/kg, L-lysine 1.17%, arginine 1.31%.
Minerals: potassium 0.7%, magnesium 0.11%, manganese 82 mg/kg, zinc 235 mg/kg, selenium 0.27 mg/kg, 0.3%, chlorine 0.78% sodium, iodine 5.6 mg/kg iron 185 mg/kg, copper 15 mg/kg.
Vitamins: Vitamin B5 (Pantothenic acid) 145.2 mg/kg, folic acid, 13.6 mg/kg, vitamin B6 (pyridoxine) 75.7 mg/kg, vitamin B1 (thiamin) 27 mg/kg, vitamin B12 (cyanocobalamin) 0.13 mg/kg, vitamin B2 (riboflavin) 48.6 mg/kg, vitamin D3 800 IU/kg, Hill 2000 mg/kg, vitamin B3 (niacin) 482.8 mg/kg.
Metabolizable energy (measurement): 3911 kcal/kg.
Additives (per kg):Nutritional additives: vitamin A 29500 IU, vitamin D3 800 IU, E1 (iron) 52 mg, E2 (iodine) 5.2 mg, E4 (copper) 10 mg, E5 (MN) 67 mg, E6 (Zinc) 201 mg, E8 (selenium) 0.11 mg. additive technology: 3.5 pentasodium triphosphate Gr. preservatives and antioxidants authorized CE.
Recommended daily allowance: the recommended amounts are indicative and should be adjusted accordingly that vary according to the age of the animal, activity, ambient temperature, etc. Rations must then conform to the energy needs of the animal, guided by the maintenance of optimal body weight. Provided that a change of power is made, a time of transition must be observed to prevent digestive problems.
Features
Pug Adult Royal Canin
Reference

3182550752404

Weight

3 Kg, 500 GR, 1,5 Kg

Brand

Royal Canin

Physical Activity

Average

Age

Adult

Flavor

Chicken, , ,

Breed

Pug

Dog Size

Small

Quantity

1,5 Kg, 3 Kg, 0,5 Kg

Made in

France

Power

16 W

Product Range

Physiological Royal Canin, Royal Canin BHN Breed Health Nutrition, , , Royal Canin Breed Health Nutrition, Royal Canin Physiological

Manufacturer

Royal Canin,ESP28000439,Royal Canin Ibérica, S.A. PLAZA CARLOS TRIAS BELTRÁN, 4 Madrid 28022 MADRID (ESPAÑA),

Produits Français
Customer Reviews
Pug Adult Royal Canin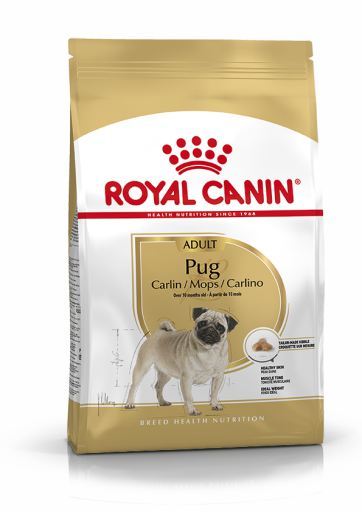 La livraison a mis trop de temps plus de 72 h
Polo brillant et pois contrl
Ottimi per il mio carlino piccoli al punto giusto e ipocalorici